Neurolab is proud to present the new PowerPack MK-9
Introducing the PowerPack MK-9 by Neurolab, the ultimate portable power solution. This compact and versatile power plant is designed to provide you with all the energy you need, wherever you go.
Equipped with our exclusive flight assist technology and powerful speed enhancer, the PowerPack MK-9 breaks all limits, allowing you to soar through the skies at speeds of up to 130 meters per second. Experience the thrill of unparalleled freedom and mobility like never before.
With the complete and user-friendly SMART HUD Custom Controller, you have full control over the PowerPack MK-9. The menu-driven interface makes customization a breeze, allowing you to personalize your device to suit your style and preferences. Choose from six different materials, including black, white, army, red, pink, and yellow (available in the FatPack option). The metal parts can be adjusted for shine, glow, and color, adding a touch of customization to your power pack. Additionally, you can select from four different flow light styles and three light speed options.
The PowerPack MK-9 also offers a range of flight assist features to enhance your experience. Activate the speed enhancer to break through any limits and reach new heights. With the power on/off function, you have full control over the device's operation. Toggle the fly, slow turn, jump, run, and crosswall features to suit your needs. Adjust the speeds for jump, run, fly, and fly up to fine-tune your flight experience.
In addition to these features, the PowerPack MK-9 includes other convenient functionalities. The LIVE status indicator keeps you informed about the power pack's current state. You can activate or deactivate particles and sound effects to further customize your experience. Adjust the volume to your preference, and use the resizer to ensure the perfect fit for your avatar.
With the PowerPack MK-9, you have the power to go anywhere and do anything. Experience the freedom of flight, the thrill of speed, and the convenience of portable energy. Embrace the future of power solutions with Neurolab's cutting-edge technology and unrivaled customization options.
Please visit our in-world Mainstore to see the demo.
• Complete, menu-driven and EASY SMART HUD Custom Controller
• Fully customizable and tintable
• 6 Materials : BLACK / WHITE / ARMY / RED / PINK / YELLOW (FatPack Only)
• Metal parts Shine/Glow/Color change
• 4 Choices Flow Lights Style
• 3 Choices Lights Speed (Slow,Speed,Stop) [on/off]
• Sounds effects & particles
■ FLIGHT ASSIST FEATURES
• Exclusive Speed Enhancer (No Limits)
• POWER [on/off]
• FLY : activate [on/off]
• Slow Turn : activate [on/off] (Slow down while turning)
• JUMP : activate [on/off]
• RUN : activate [on/off]
• CROSSWALL : activate [on/off] (if activated the system will not try to avoid to cross walls)
• SPEEDS CONTROLS :
• Jump : 10>150
• Run : 10>150
• Fly : 10>150
• Fly up : 10>150
■ OTHERS FEATURES
• LIVE Status
• Particles : activate [on/off]
• Sound : activate [on/off]
• Volume : Set the volume: 0-100
• Resizer
• MOD – COPY permission
• Delete Script – NO LAG! (Scripts professionals with memory optimization for better performance!)
■ SMART HUD
for the best customization : "many choices of features to make your product unique !"
• You can customize the Colors independently of 4 Parts by choosing your color, glow and shine for each part or all your Set products.
• Unlimited Colors, 16 Presets, Option Product.
• Synchronize all your outfits together with a few clicks.
• Selectors by ITEM, SET or ALL (10 m, 20 m, 100 m).
• Access to advanced options for each products.
• Scripts memory LOW LAG! FULL MESH! And much more … ( Compatible with all Neurolab products* )
(The items are NOT rigged, allowing customization of scale, rotation and position. An easy to use menu allows for resizing)
◦ [NeurolaB Inc.] PowerPack MK-9
◦ [NeurolaB Inc.] N.PHONE SMART HUD
◦ Instructions notecard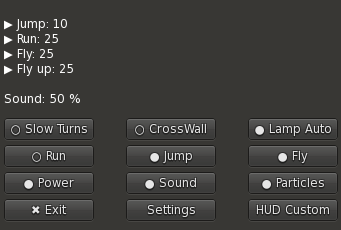 Wear the PowerPack MK-9
Click on PowerPack MK-9 to open "Menu Settings"
Use Resizer, then adjust the size and position to your avatar
MENU
LIVE STATUS : List current modes and values on top of the menu.
• POWER ON / OFF
• Hud Custom: to connect hand on Smart HUD.
• Slow Turn : activate ON / OFF  (Slow down while turning)
• JUMP : activate ON / OFF
• RUN : activate ON / OFF
• CROSSWALL : activate ON / OFF  (can cross the buildings)
• FLY : activate ON / OFF
• Particles: activate ON / OFF
• Sound : activate ON / OFF
■ SETTINGS :
• Scale : RESIZER change size
• Position : Move in all direction the position of boots
▪ SPEED :
• Jump: 10-150
• Run: 10-150
• Fly: 10-150
• Fly up: 10-150
• VOLUME :  Set the volume: 0-100
• Del.Scripts : delete scripts (Remember to always keep a copy scripted)
Watch this VIDEO in full screen
if you do not already have your N.Phone HUD, you will find one in the product folder
Please follow these steps to connect the product to your Smart HUD app: 
1 – Wear Smart Hud
2 – Click on the product to open the settings menu 
3 – Use the 'HUD CUSTOM' button to establish a connection with the product & HUD
4 – The Smart HUD app will automatically launch 
5 – Now you can customize…
CUSTOMIZE
To customize Colors, Glow, Shine, Opacity… Open Colors Tab. Here you can save presets and more..
To customize style and options, Open Options Tab. Here you can adjust many features.
Revision 2.0 (RELEASED) : 
Added :

New FATPACK (6 MATERIALS: BLACK / WHITE / ARMY / RED / PINK / YELLOW)
New MATERIALS BLACK and WHITE SET
Revision 1.0: First release